It's a six-letter word most newly engaged couples don't want to talk about, but I'm just going to go ahead and say it…BUDGET!  If you haven't talked about it yet, you need to do it soon.  You can have your perfect wedding regardless of your budget, but one of the first things you and your fiancé should discuss is how much you (or someone else – we'll get to that later) are prepared to spend on what will hopefully be your first and last walk down the aisle.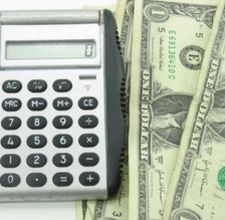 The first step is figuring out who is going to pay for the wedding – and there are no set rules here.  Traditionally, the bride's parents paid for the ceremony and reception, while the groom's parents took care of the rehearsal dinner.  In certain cultures, groom's parents actually pay for the whole wedding, or offer to cover a specific expense (e.g. flowers, music, etc.).  Nowadays, with couples waiting longer to get married, many chip in for a significant portion of their wedding costs, or even foot the whole bill.   Scary, I know!  No matter who is springing for wedding, it's important to have a rough idea of your total budget before diving into the details.  Once you have this magic number, there are a lot of great worksheets out there to help you figure out what your expenses will be.  Real Simple a great one posted on their website that does a good job of laying out most, if not all, wedding-related expenses.  Having all your expenses written down will definitely help you manage expectations, because I can tell you firsthand, last minute expenses have a way of sneaking up on you.  Who knew a bus from the hotel to your reception would cost several hundred dollars or more?!?!
Every couple (who am I kidding, every bride) will have their own priorities, so no two budgets will look the same.  If you can't imagine walking down the aisle in anything other than a Monique Lhuillier gown and you don't have a money tree in your backyard, you may have to sacrifice elsewhere in your budget.  Here is where an event planner, an expense many people think they can't afford, can really save you money.  A good event planner will tell you what is and isn't necessary and help you make the most of your wedding budget.  You can have a fantastic wedding AND stay within your means, because going into debt is no way to start a marriage!