You've likely spent countless hours poring over Pinterest (or the more traditional bridal magazines) looking for the perfect dress, the most beautiful flowers and the coolest trends in hors d'oeuvres, but what about those small details.  It's the little things that people will walk away from your wedding wanting to copy for their own event.  Unless you have a wedding planner that clues you in to these very important accessories, you might just assume that your venue will provide them.  I don't have to tell you what happens when you assume things – we've all heard that saying before.  This is where a great event planning team, like Party Panache, comes in.  They've seen and done it all and can tell you what special finishing touches will make your event that much more unforgettable.
We all know that first impressions count.  When guests arrive at your reception the first thing they should see is a table set up with escort (seating) cards.  For the most part this is an inexpensive item and one that can be personalized with your monogram, a ribbon or a motif reflecting your theme.  Hand calligraphy gives escort cards a beautiful and sophisticated appearance, but machine calligraphy is a great alternative to achieve a classy look for less. We've done countless different types of seating cards – from classic to one of a kind; if you can dream it, Party Panache can do it!
During the cocktail hour, imprinted beverage napkins are a nice touch.  Some caterers will supply a small quantity for "show" and supplement with plain napkins or ones that have your venue's logo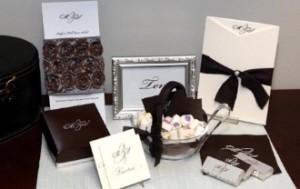 .  It's important to ask your caterer and know what you are getting as suggested quantities vary from caterer to caterer.   Party Panache's familiarity with many venues can help you make a decision as to whether this is something you should provide yourself for that extra touch of personalization.
When guests enter the main ballroom, you want them to be "wowed"!  Certainly lighting and centerpieces are the first things that are noticed, but why stop there?  The small touches that you add to your table décor should complement the floral arrangements.  Beautiful menus, table number cards, napkin rings, mint boxes, etc. show that you put some thought and your own personal touch into the presentation. You can even take it to another level and have monogrammed Splenda envelopes…people are still talking about those from my wedding two years ago!