Now that I've gotten over my Kardashian wedding hangover, I thought it was the perfect time for a blog entry on finding that perfect wedding dress.  While Kim K. may have had three gowns, most of us only have one and want it to be perfect.  Here are a few things to think about before you even step foot in that bridal salon.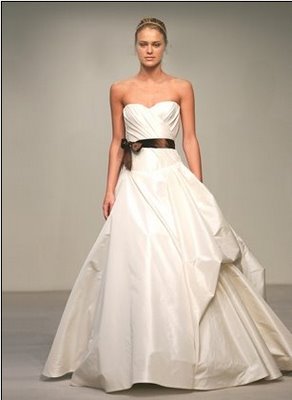 Know your budget and let your bridal consultant in on that number as well.  If you can't afford it – don't try it on.  We all want what we can't have, so why fall in love with something you can't buy?  Don't forget the extras (veil, accessories, alterations, etc.) – they add up fast.  You may also want to consider borrowing some of those extras from your friends or family – you need a "something borrowed" anyway.
Be realistic about what will look good on you.  That model in the magazine you're reading is most likely six feet tall and a size zero – most of us mere mortals are nowhere near that.  I've always thought flowy gowns were so beautiful and romantic, and on many women they certainly are. I, however, came to terms with the fact that I'm nowhere near waif-like and needed a little structure in my wedding dress.  By knowing what worked for my body, it was so much easier to narrow down gowns in magazines and made my search that much more productive.
You don't need to try on a thousand dresses to find the one.  Like everything else in life, we tend to think there is something better out there.  Often, that's just not the case.  If it's the right dress, you'll know as soon as you put it on – whether it's the first or the last dress you try on!  It's kind of like falling in love – when you know, you know.
Make sure you match the dress to the venue.  An elaborate beaded gown may look beautiful in the dressing room, but it may be a little out of place at your destination beach wedding.  Not to mention, who wants to spend their wedding day sweating through layers of fabric?
Unless you're J-Lo, you really don't need an entourage with you to choose your dress.  Bring the people you trust the most to be honest with you.  Sometimes the fewer people in the peanut gallery, the better.
Last, but not least, is a tip from my own experience.  Splurge for a great seamstress – it can make all the difference.  It may also save you from needing pricy undergarments!
Armed with these tips in mind, you're ready to say yes to your dress!